The Barrett Bag offers up to 90% protection from injury and damage when placed over a bomb. It is made from a reinforced, rubberised material filled with a fire retardant liquid which absorbs the blast and shrapnel of the bomb, and quenches the fireball. The product is patented worldwide.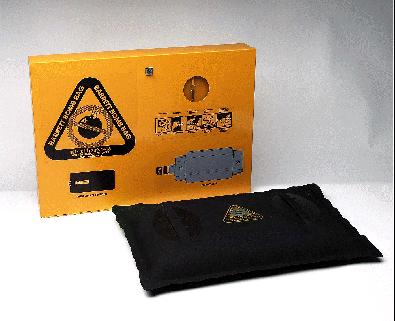 How does it work? The size of a large pillow, weighing about 30lbs (16 kilos), The Barrett Bag can be placed over any suspicious-looking parcel.
Who should have one? The Barrett Bag should form an integral part of any Security Operation in charge of airports, shopping malls, hotels, sports stadiums, parking garages - any place that could be a terrorist target. The bag is packed in a sturdy metal case which can be fixed to a wall for easy access. It can either be a fixed feature, or used on an ad hoc basis, as when a pop concert is being held in a park, for instance. An analysis of what terrorists have done in the past is also useful in predicting where they might strike next.
How do I know the claims are true? The Barrett Bag has been scientifically tested and proven in live incidents in South Africa.
Special protection against hand grenades A smaller size is also available which can be placed over a hand grenade that is thrown into a vehicle. It is of particular value to police, troops, or peace-keeping forces having to enter potentially dangerous situations.
Where can I get it? The Barrett Bag and Barrett Grenade Bag are manufactured in South Africa and under licence in the United Kingdom.
To order, contact Barrett Bag Marketing, P.O.Box 2867, Randburg, 2125, South Africa. Tel +27 11 789-1416 Fax 789-5036 Or you can e-mail us at bdunn@global.co.za
Bomb Types
The Barrett bag can be used to reduce blast damage to negligible levels of :
SPM limpet mines
Mini limpet mines
up to 6kg explosive charges
home-made pipe bombs
hand grenades
In all instances, it is the blast effect that kills and destroys when the bomb explodes. Temperatures of the fireball could reach 3000 degrees celsius. More importantly, the blast effect, caused by the velocity of detonation (VOD) of limpet mines and larger explosive devices, reaches incredible speeds and forces of destruction - 9 times faster than a rifle bullet. It breaks up objects in its path, turning them into shrapnel, and it is this shrapnel that kills, shreds and destroys.
The Barrett Bag - Proven in the Field
Barrett Bag placed over limpet mine concealed under a Black Jack table at a casino. The bomb went off. Nobody injured. Not even the table was damaged. After sweeping and drying out, casino back in operation the next day.
Barrett Bag placed over bomb which was removed to an intersection in the city of Johannesburg. No injuries. No damage, except for minimal scarring of road surface directly under bomb.
Terrorist Targets
The following is a factor analysis of terrorist targets for the last 5 years. It is reasonable to beleive that terrorists will attack similar targets in the future:
US Government Facilities
Government facilities within the USA
US Embassies abroad.
US Military Facilities
USO Facilities (US servicemens' organisations)
US Corporate Targets / US Multinationals

Railway lines / Railroad systems
Airports
Sporting Facilities
Airline Offices
Shopping Malls
Police Stations
Banks
Restaurants (esp. if frequented by US servicemen)
Trolleybusses / Busses / Tour Busses
NATO Facilities
European Economic Community (EC) Facilities
Synagogues
Embassies
Pipelines
US
18 July TWA flight 800 crashes in ocean off Long Island, NY
27 July Pipe bomb explodes @ rock concert in Atlanta
Spain
10 July Small bomb in Alhambra Palace, Granada, first in a series of ETA attacks aimed at tourism
20 July Bomb at Reus airport injures 35
27 July Small Bomb damages apartment block at resort in Ordizia
UK / Ireland
26 June IRA bombs Manchester
28 June IRA Mortar Bomb attack on British Base at Osnabruck
14 July Bomb explodes at hotel in Enniskillen
25 July Animal rights activist with explosives attached to body arrested in Brstol
Corsica
1 July Bomb in Bastia injures eight
Germany
17 July Pregnant woman and male companion escape unhurt when bomb explodes beneath their car in Hamburg
26 July Two properties fire-bombed in fourth successive night of violence against
Algeria
3 July Muslim Guerillas blow up gas pipeline
9 July Bomb at domestic gas distribution centre near Algiers kills engineer repairing damage from an earlier blast.
18 July Bomb goes off in café in garrison town of Blida killing 5
Asian Sub-Continent
27 June 3 killed by bomb at bus station outside Islamabad, Pakistan
3 July Burmese junta propaganda billboard bombed in Rangoon
8 July Bomb at railway station in Faisalabad in Punjab; 3 dead
22 July Bomb kills 6 at Lahore airport, Pakistan
24 July Bomb explodes in commuter train, Colombo, Sri Lanka; up to 70 killed
17 July Bomb found at the governor's palace in Jalalabad
25 December 1996 Dimapur, India -- An Indian politician's wife, daughter and grandson were killed in a car bombing Wednesday after attending Christmas services.
Eastern Europe
17 July Explosion in basement of Bulgaria's National Congress Centre in central Sofia
16 July Remote-controlled bomb damages Ukrainian Premier's car as he drives to Kiev Airport.
12 July Bomb in Moscow Trolleybus kills 1, injures 14
South Africa
Man terrorises bank over period of months threatening to blow up a branch unless he is paid SA Rands 1 million
24 December - 3 pipe bombs explode in Worcester 90 kms from Cape Town killing 3 people
South America
26 July Car bomb in the centre of Lima, Peru, injures 10.
---
---
This Page has been visited

times
---